Home >> Reseller.Site-Helper.com >> Changing User Passwords
---
Changing User Passwords

From the main Reseller panel , click the "List / Modify Accounts" icon.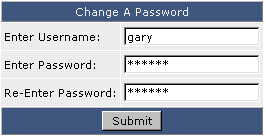 Type in the Username and new password twice, then click "Submit."
The change password feature is also available in the List / Modify Accounts section, but the Change User passwords link was created directly on the main page of the Reseller panel for your convenience.
Need more help?
Please contact your hosting company for more assistance, or visit the DirectAdmin support forum at https://forum.directadmin.com.
© 2003 JBMC Software. DirectAdmin licensees may reproduce this page for their own customers. Reproduction by other parties is prohibited.